COLOR CHANGING LAMP
Welcome to the home of modern, minimalist British & Japanese design. Aesthetics and function combined are the key principles during the design process. Followed by quality during the manufacturing process.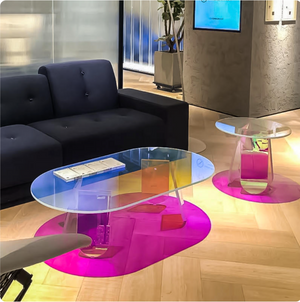 Limited time
Signature coffee table
Our signature glass tables are characterized by a unique iridescent multicolored finish; the nuance varies according to the incidence angle of the light and to the vantage point. Experience magical and ethereal appearances emerging from your coffee tables.
Shop This
Shop All
★★★★★

All my friends and family can not stop talking about my living room now with the lamps installed. It's incredible how I can change the mood of the space in a matter of seconds."

Cristina J.

Los Angeles, CA
★★★★★

This light is amazing! We love how bright it is and how it really lights up our space. It's a great addition to our home and we would highly recommend it to anyone!

Alex S.

Dallas, TX
★★★★★

I bought this minimal lamp for my living room and I love it! It's very minimalistic and goes well with my other decor. It gives off the perfect amount of light and I don't have to worry about it taking up too much space.

Mark T.

Denver, CO